KCCIHS's Registered Massage Therapy Program (RMTP) is scheduled for completion in approximately 22.5 months (although longer learning options are available).

The program consists of six, fifteen-week semesters spanning over 90 weeks with two-week breaks between semesters.
Program goals are accomplished through the following themes:
Curriculum innovation

Embodiment

Person-centered care

Practitioner reflection

Educational technologies
See our mission statement for more information about these.
Our RMT Program has a ground up approach and is designed to teach foundational techniques, theories, and methods of massage skills that can be practiced, repeated, and continuously assessed in both classroom and clinical learning environments.
As students progress in their studies they will be introduced to additional modalities and techniques, and theories and treatment approaches that build on the foundational competencies of earlier terms. They will acquire a wide variety of knowledge including studies in the human sciences, orthopedics, research, nutrition, business, communication, self care and professional development.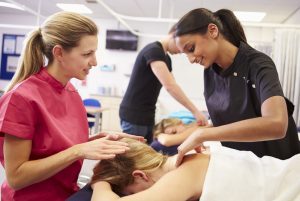 In addition, learners will attend regular internship clinics where they can implement and practice their skills and knowledge with specific client supervised populations under the watchful eye and guidance of a clinical supervisor.
Student Support and success is at the heart of KCCIHS's educational experience. We understand learning occurs in a myriad of ways and at different times. We'll support learners in their journey by providing inspiring learning spaces, creative and innovative curriculum delivery and by cultivating supportive relationships and open communication.
Assessment and Evaluation of Student Performance
To ensure learners meet the learning objectives and competencies as per curriculum guidelines the RMT Program adopts an array of assessment and evaluation methods for the didactic and clinical aspects of the program.
Didactic assessment and evaluation is continuous throughout the program. Methods used for assessments include but not necessarily limited to the following:
Quizzes

Assignments

Group presentations

Self assessment

Individual projects

Reflective and/or journaling practices

Midterm examinations written and practical

Final examinations both written and practical
Student Clinical Assessment and Evaluation
Student clinic internships begin in semester two, when students are expected to achieve the necessary 550 hours to meet CMTBC requirements for clinical education. Learners will acquire these hours primarily in the following ways: student public clinic, outreaches, in-reaches and research and presentation of a clinical case study.
Clinical assessment occurs in a variety of formats. Learners have two official evaluations during each term, one at the mid term point and one at the end of term. Each evaluation is designed to assess specific outcomes as per clinical learning objectives. In addition to the formal evaluations, the instructor will conduct room checks for each student during their clinical shift. These room checks are intended to guide learners in developing their clinical skills; assessment, palpation, observation, manual, draping etc. As well, the room checks gives learners the opportunity to ask the clinical supervisor for specific instructions in areas they need to develop.
As learners progress through the program, accordingly the level of assessment becomes more challenging with a focus on what entry-to-practice realities would be. For example, in term two and three students will be assessed on basic professionalism, bio-mechanics, techniques, time management and interviewing skills, while in the later terms evaluation will focus on students performance in several other areas including assessment, special testing, treatment planning, and implementation and recommending of self care strategies.
Students will be responsible for maintaining a clinical log book which documents each patient treated, day and time of treatment, patient identification, reason for treatment, procedures completed, comments and learning notes. The final student evaluation mark will be given after a full review of all the assessment results. They will also be required to complete a comprehensive case study capstone project in semester six.
Students will get the opportunity to work target specific populations including palliative care, with athletes, the elderly, neurological conditions and pregnancy etc. 
Program Completion Requirements
For successful completion of the program the candidate must:
Complete all outstanding examinations, assignments, projects etc., from all semesters including the final semester

Complete all clinical internship requirements including:

The completion of 550 hours of clinical internship including the amounts of initial and subsequent clients ratio as per CMTBC guidelines

Completed, and handed in student log manual

Successful completion of the clinical case study capstone project

Completion of all clinical charting and client case follow up

Completion of all clinical evaluations requirements

Have met all financial obligations to KCCIHS

Complete all other outstanding or regulatory requirements
On successful completion of the program candidates will receive an official Diploma in recognition of their completion of all requirements for the Registered Massage Therapy Program.